My Dharma master, His Holiness Penor Rinpoche, however, has been the most important person in my life, the closest and dearest person to me. He is in my heart wherever I go. No matter how far we are apart, I never stop missing and caring about him.
I left my family to live with His Holiness Penor Rinpoche when I was a young child. If I were a kite, His Holiness would be the kite flyer; the kite never really leaves the flyer no matter how high it flies. My Dharma master, His Holiness Penor Rinpoche, however, has been the most important person in my life, the closest and dearest person to me; he is not only my teacher, but also my father, my mother, my brother, and my friend. He is in my heart wherever I go. No matter how far we are apart, I never stop missing and caring about him.
As far as I can remember, I have lived in Namdroling Monastery all my life, though I don't remember exactly when I moved here. When I was a little boy, we didn't have this many lamas here. Our life back then was pretty hard due to our very limited resources. Mugsang Kuchen and Karma Kuchen Rinpoche were also small children like me. We shared one room with Penor Rinpoche, doing pretty much everything together with him. For us, he was like a kind, patient nanny who took care of our every single need. On the other hand, he was also like a nice father. Under our persistent requests, he once took us to the river for swimming, despite his busy schedule and heavy workload. Sometimes he even bathed us himself!
As a gentle caretaker in some ways, Penor Rinpoche was also strict in other ways. For example, he was a demanding teacher. I still remember that we had to learn how to write, recite sutra, and conduct Buddhist practices all day long, from when we got up in the morning until we went to bed in the evening, with very short breaks for meals and rest. Under his supervision, we always worked as hard as we could, not daring to miss any classes.
We were ignorant for being young children, and really liked to play and have fun just like other children. We always tried to find a way to be idle and get away from reciting sutras, until one day, His Holiness had to leave the temple for Buddhist rituals, and thus the day of his absence became a holiday for us.
During the lengthy learning process, I would feel lazy at times, wondering with a child¡¦s mind when I would ever reach the end of my learning. And it was His Holiness¡¦ encouragement and guidance, that pushed me to keep on my learning without retrogression. Now, I finally realize His Holiness¡¦ good intention, that the journey of spiritual practice is not only lifelong, but eternal.
In my mind, the compassion of His Holiness Penor Rinpoche is as inconceivable that of Ksitigarbha Bodhisattva and Padmapani Bodhisattva. The monastery would not have existed without his strong resolve and tireless efforts in helping all sentient beings. At the time that His Holiness led other Tibetans from Tibet (Xizang) in order to preserve Buddhism, it was through an arduous journey that they made a treacherous crossing of the Himalayas under the moonlight, and finally arrived in India. It was greatly appreciated that the Indian government accommodated His Holiness and his followers. Later, the Indian government offered jobs to those Tibetans and allowed them to stay in India permanently.
His Holiness contributed quietly all the time, conducting retreats and spiritual practices vigorously, and delivering Buddhist teachings without rest. To many Tibetans, his efforts made him a light in the darkness of hard struggle in a foreign land. He saved every cent of the offerings from his sangha and followers, and after two or three years he had collected about 800 Indian Rupees, together with another 1,000 Rupees from local Tibetan communities. He then first successfully obtained approval from the Indian government for use of the land. To build Namdroling Monastery, His Holiness joined other construction workers in carrying the rocks and sand himself. This was the humble start of Namdroling Monastery; a mission impossible that began with 1800 Indian Rupees collected from impoverished refugee camps.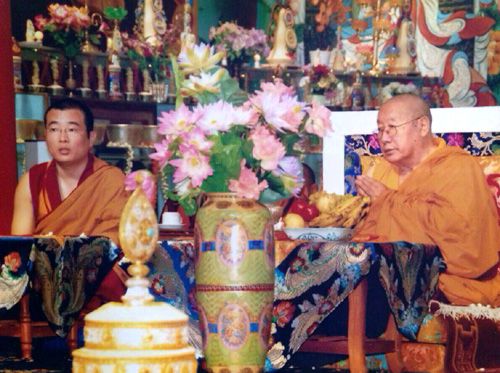 During the strenuous construction work, the hands of His Holiness were often bleeding from injury. However, no matter how tired he was, writing scriptures, chanting mantras and studying Buddhist practices were the homework we were not allowed to skip, even for a single day. Enveloped by the compassion of His Holiness, a group of people earned their own living, which added with Buddha's blessings, allowed us to finally have our own Palyul Monastery.
Although Penor Rinpoche was once our intimate roommate, we never lost our respect for him. Instead, we admired him tremendously, as our close observation gave us the precious opportunity to see his greatness with our very eyes. He has been our idol, the creator of constant miracles that often leave us speechless. His white conch shell was especially amazing to me; I was told that the sacred syllables of the Manjusri Bodhisattva mantra embossed upon it were "written" by his tongue! One day, when we were having a big puja, His Holiness took a glass bowl and threw it onto the ground because a dharma master did something wrong. Amazingly, this bowl remained intact, in spite of the sound of smashing.
His Holiness, also known as the "Rain Lama" in India,made this name for himself in rain evocation. Whenever a drought struck, His Holiness would be invited by local people to evoke the rain. Miraculously, all his prayers for rain, without exception, were answered. One day, he rode his bicycle to a mountain 20 kilometers away for rain evocation. He buried a sacred vase in the lakeside on the mountaintop before he started his evocation. Right after the ritual, he dashed down the hill with his bike, with large raindrops beginning to fall when he was halfway home. By the time he reached Namdroling Monastery, he was soaked to the bone.
I have witnessed so many of his miraculous deeds that I am now hardly ever surprised. But I can not help but share some of them with you.