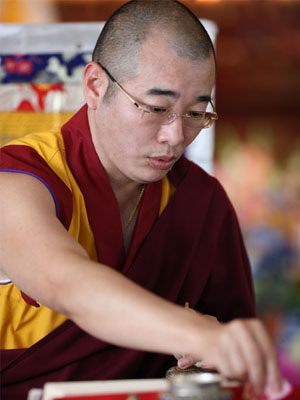 'To attain peace and bliss and avoid suffering' is the common wish of every sentient being in this world. To bring real peace and bliss to this world was especially the great aspiration of one of the world's religious leaders, the late His Holiness Penor Rinpoche, in regard to his Dharma propagation and altruistic work.
To bring peace and bliss to this world is in fact a common mission that all human beings need to undertake, and only the Buddhadharma can truly help sentient beings avoid suffering and attain happiness.
To fulfill his aspiration, the late His Holiness Penor Rinpoche built Palyul Namdroling Monastery in India with the help of a very small group of his disciples who fled to India with him. Moreover, the support of benefactors from all over the world for such sacred Buddhist activities continues to enable Dharma teachings and the sangha to develop.
Since Palyul Namdroling Monastery was founded in 1963, it has already nurtured tens of thousands of Buddhist monks, nuns and lay practitioners from all over the world who have come to learn the Buddhadharma. His Holiness Penor Rinpoche has shouldered all the living costs of the entire sangha.
In the past, His Holiness appointed more than a hundred erudite scholars and gurus every year to help people around the world learn to purify their minds and enhance the spirituality of their daily lives with the Buddhadharma.
Because of His Holiness's vast vow and tireless efforts, Palyul Namdroling Monastery today is not only a holy shrine that educates monks and nuns and guides the general public in their spiritual practice, but it has spread the seed of the Buddhadharma to every corner of the world to benefit all sentient beings affiliated with it.
For a long time, even under extremely difficult material conditions, Palyul Namdroling Monastery has managed to support unconditionally all the living costs of more than 6000 monks and nuns, as well as assist lay practitioners and poor families. As the number of people being assisted is increasing every year, it becomes a great challenge to Palyul Namdroling Monastery to maintain the basic living conditions of the people at the monastery.
To obey and continue in the Buddha's spirit of equal liberation for all, Palyul Namdroling Monastery engages in various altruistic activities such as the establishment of monasteries, schools, hospitals, nursing homes and orphanages. Living up to the teachings of His Holiness Penor Rinpoche and other gurus, every member of the sangha at Namdroling Monastery not only occupies themselves in Dharma propagation and altruistic work at all times, they also continuously dedicate the merits and virtues of their diligent practice to all sentient beings. It is from this standpoint that I sincerely appeal to kindhearted people around the world to support and help fulfill our great vow of constantly benefiting all sentient beings.