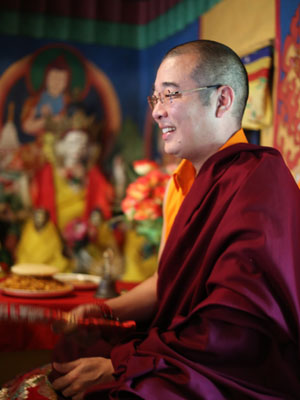 In 1963, His Holiness Penor Rinpoche built the Namdroling Monastery in India, which now houses over 6000 monks and nuns. It takes altogether 24 years for a monk or nun to complete their study, reflection and practice in the Buddhadharma. The enormous living expenses of the Sangha have all been on the shoulders of His Holiness Penor Rinpoche.
In recent years, His Holiness has even appointed more than a hundred erudite scholars and enlightened gurus to help people around the world to learn the Buddhadharma. For the poor and solitary elderly people, His Holiness built nursing homes to furnish them with the necessaries of living.
Today Namdroling Monastery is not only a holy shrine that educates monks and nuns and guides the general public in their spiritual practice, but it has already spread the seed of the Buddhadharma to every corner of the world to benefit all sentient beings affiliated with it.
His Holiness entrusted me with the task of fundraising for food in order to provide the Sangha with a sustainable food supply. Also, I am now in charge of building the Branch of Namdroling Monastery at Bodh Gaya, so that the believers from everywhere can participate in the group practice held by Namdroling Monastery during their pilgrimage to Bodh Gaya every year.
To bring real peace and bliss to every part of the world, every member of the Sangha at Namdroling Monastery practices diligently and dedicates the merits and virtues of their cultivation to all sentient beings. We wish our idea of protecting and blessing sentient beings may be recognized by the global community. Here we sincerely invite all of you to join to support our various altruistic activities.